Ping Pong Dating
SMASH, Wimbledon, London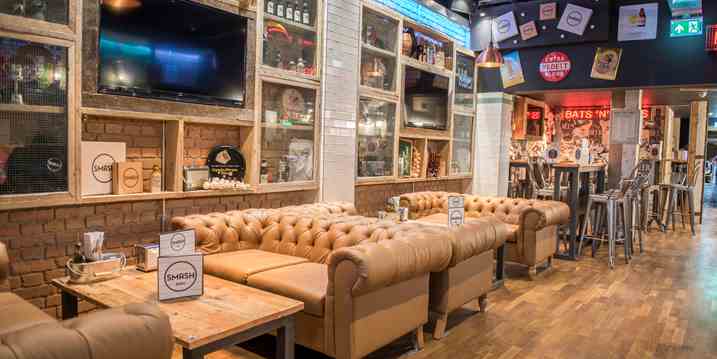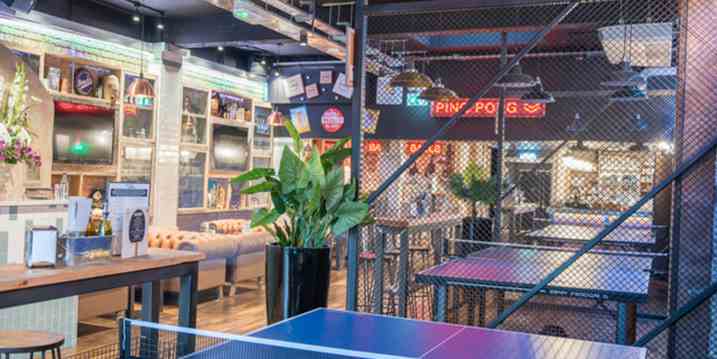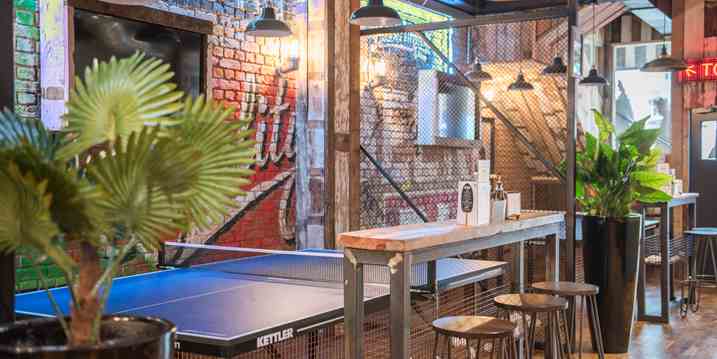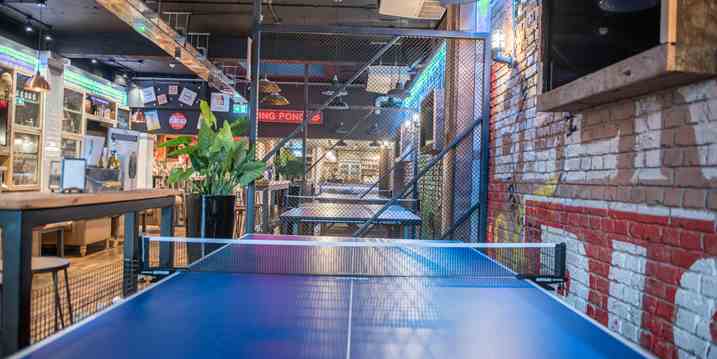 This is a past event, please click here to see future events in London.
Wednesday, 28 March 2018
ABOUT THE EVENT
SUPER BUSY EVENT - LAST FEW PLACES - BOOK NOW!

Are you looking for an easy way to meet new people? Well look no further than Original Dating's Ping Pong Dating! It has never been so fun and easy to meet new singles than playing ping pong.

Introducing the brand new dating event, Ping Pong Dating with our incredible new venue SMASH Wimbledon! Yet another Original Dating first see's us mix the fantastically fun game of ping pong with our unique take on speed dating.

This social event will see you mingle with 40 –50 other singles and have exclusive access to the ground floor bar while also playing mixed doubles on not 1, not 2 but 3 Olympic standard Ping Pong tables! You will have the chance to play a few games of Ping Pong with various partners and when you're not playing there is plenty of time to chat and flirt with your fellow ping-pongers!

At the end of the event we will all come together for a hilarious group challenge to cap off the night!

The next day you will have access to our bespoke matching system, simply tick 'yes' to anyone you'd like to see again, and find out who you matched with.

This really is the best new way to meet people and we guarantee you'll have a SMASHing time!
Important information
This event takes place in the ground floor bar.

- Doors open 7.00pm
- Event starts 7.30pm
- Speed dating finishes approximately 10pm
- Venue closes 3am

It's essential that you arrive before 7.25pm in order to take part. We might not be able to allow entry if you are late.
Price: £20
Sorry, this event has sold out
NEW - Ping Pong Dating, the brand new ping pong dating event London has been waiting for!
WHERE
This experiential bar offers an uber cool surrounding to kick back and enjoy. SMASH offers three Olympic grade pin pong tables to enjoy as well as an incredible selection of over 60 craft beers and not only classic cocktails but contemporary ones as well, not to mention the pizza's. This bar is perfectly designed to offer a fantastic night of fun and games!
Address Smash, 82 The Broadway, Wimbledon, London, SW19 1RH
Nearest station Wimbledon Rail Station/South Wimbledon Station
Tel 02071125174 – Please note this is not a booking line
PLEASE NOTE: Advance booking is essential and no tickets will be available to purchase on the door. Online booking is simple and very secure. Our payments are handled by Stripe, one of the world's largest payment processors using the highest grade security currently available.
Nic

So much fun! Arthur was a brilliant host.
Anne

Despite some technical issues and the fact this isn't done in person, it was a relatively comfortable experience and even fun overall - that means a lot from someone who dislikes online/speed dating!
Original Dating reply
Thanks Anne, so happy you overcame the issues and had a nice time with us!
Arabella

Great evening chatting to a truly eclectic bunch, from the comfort of my own home. Such a fun concept!
Original Dating reply
Hi Arabella, what a delightful review. Thanks for coming, we love it that you enjoyed the concept.
Petra

It always gets a bit long after 8 people. I would maybe limit this
Original Dating reply
Thanks for the feedback Petra.
Jonny

Arthur was an excellent host for the event
Original Dating reply
Hi Jonny, brilliant to see you enjoyed Arthur's hosting prowess.
Benjamin

First time great start
Original Dating reply
So happy to see you chose us for your first virtual dating event.
Lucy

Very well organised and worked well! Thank you
Original Dating reply
Hi Lucy, we aim to please. Delighted you enjoyed it.
Daniel

There could be short breaks after every three dates.
Original Dating reply
Hi Daniel, thanks for the feedback. We have arrived at our format for various reasons but always looking at ways to improve it.
Pheihan

People at my table are genuinely nice people and a bottle of champagne after winning quizzes makes a perfect end! Thank you for your generosity and you are amazing host.
Original Dating reply
Hi Pheilan, thanks very much for joining us. It's going to be our list live event for some time sadly.
Jessica

First time doing this, thoroughly enjoyed it
Original Dating reply
Hi Jessica, that's amazing to see - thanks!
Helena

Variety of people to meet. Might be nice to create an atmosphere with some gentle music in the background? Silences in conversations are a bit more awkward.
Original Dating reply
Hi Helena, thanks for the feedback.
Dean

Good host a fun event!
Original Dating reply
Hi Dean, lovely to see you enjoyed the night. Do come back again!
Kasia

Was good and intresting ;-)
Original Dating reply
Thanks for a lovely review, Kasia!
John

Tara such a friendly relaxed hostess
Original Dating reply
Thanks John! Tara is a gem!
Jasper

Nice host and no technical issues. Smooth operation.
Original Dating reply
Thank you Jasper, we're trying our best under these tricky circumstances. Glad you enjoyed virtual speed dating.
Augusta

The host Tara was professional and clearly had everything under control. It was run smoothly and efficiently. I will definitely attend this again. It's so refreshing to meet people and be able to talk to them versus being on an app. Thanks Tara!!
Original Dating reply
Thanks so much Augusta, Tara is one of THE best virtual speed dating hosts anywhere!
Sam

Always a joy
Original Dating reply
That's lovely, thank you Sam.
Jackie

Good fun
Original Dating reply
So pleased you enjoyed the night - many thanks, Jackie.
Allan

First timer. It was lots of fun. Very smooth. Thanks for being a great host Arthur!
Original Dating reply
Thanks so much for giving Virtual Speed Dating a try Allan, do come again!
amber

The host was lovely, and gave helpful advice.
Original Dating reply
Brilliant to see you enjoyed the night, Amber thank you for feeding back.
Amber

Really well set up the host was really friendly.
Original Dating reply
Amber, this is music to our ears! Thanks so much.
Lisa

Easy to understand system and smoothly run. Probably too expensive for what it is, a lot of the dates live quite far from me.
Original Dating reply
Hi Lisa, thanks for the feedback. It's important to remember that every event is different so please try us again as you'll meet another group of people and maybe have more luck next time.
Rob

Was nice that we had a bit longer than usual speed dating with each date, and that there weren't too many dates in total.
Leah

I liked that it was curated and I do feel like that make a difference with the people that were there. Everyone was really friendly and made a good effort at chatting so it wasn't awkward. The host, Arthur, was very clear in setting out the event and bought a jovial atmosphere.
Original Dating reply
Hi Leah, lovely feedback to have on our new Curated Dating format. We're so happy you enjoyed Arthur's hosting style!
Tracey

Could've done with a break. Straight through run for hour and a half was a bit intense!
Original Dating reply
Hi Tracey, thanks for the feedback, we're always working to improve.
U

Fun event with lots of interesting people and conversations.
Original Dating reply
Love it, thanks!
Fin

The host Emily was lots of fun and professional. Just a good evening,
Original Dating reply
Thank you Fin, please come again!

Relaxed and easy going. Nice people
Original Dating reply
Thank you !
Sam

Very well run absolutely love these events!
Original Dating reply
Cheers Sam, you are welcome any time!
Georgia

great way to meet new people. It was my first time and I had such a laugh!
Original Dating reply
Georgia, that's so nice to hear. Thank you.