Being single is hard work b
ut it shouldn't have to be.
You're swiping left, photo after photo waiting for something to swipe right to. Maybe this guy next to the sedated tiger or maybe this girl posing on her trip to Auschwitz (I've seen these on tinder believe it or not!). Then there's the whole debacle of texting someone you've never met and to make matters worse they've put something like 'If you're just gonna say hey, how are how? Keep swiping' in their profile. Great, that's just fantastic, now you've also got to be some incredibly witty comedian and jump through hoops for some narcissist. 
Being single is hard work but it's not supposed to be. It's supposed to be fun. 'Single and ready to mingle' or 'single and I just don't care'.  When did being single become such a chore?  Why have we invested into these apps? Why do we think they are the answer to our single prayers?  
Half the time people are only on apps for validation. Yes, it's nice to be wanted but it's even nicer to date and more than half the time your matches won't even lead to a date offline - meeting someone in real life, face to face.  
A recent study by Leah LeFebvre in Psychology Today, showed that 77% of their respondents had met a match in person. With the average participant having 4.58 meet ups. So that's under 5 dates a year...that's like 1 date every 2 months. Doesn't seem helpful to me. 
Why choose speed dating? 
Speed Dating is an easy way to meet lots of people in one fun night. 
Let's break this sentence down into three parts; 
[Speed Dating is an easy way] 
Being single shouldn't be hard work and it's not if you go speed dating. We do all the work for you. You just have to turn up and have a chat with up to 25 suitors. After the event you go online and make your selections of who you want to see again. It's like tinder in reverse, you meet first and match after. Doesn't that make more economic sense? 
[to meet lots of people] 
We have 25 dates every Friday. That's 5 years' worth of dating app dates in one night (we have over 300 singles at some of our Lock & Key parties, I can't even do the math). Our earlier in the week events are slightly quieter for the more relaxed daters.  
[in one fun night] 
Another study by Badoo in The Independant, states that women aged 18-30 on average spend 90 minutes a day on dating apps and men spend 85 minutes. So that's 10 hours a week. I think I speak for us all when I say we've got better things to be doing with our time than swiping. Our events last 90 minutes, and they're a lot more sociable and fun than swiping on the loo or on the bus. You can have a few drinks while meeting interesting people – it's a no brainer. 
So why choose speed dating with Original Dating?
Well Original Dating are the best Speed Dating Company in London. We run over 300 events every year and have had over 100,000 daters enjoy our events since 2003.  
-On average people make at least 3 matches at our popular events.
-We host all our events in private rooms at the best bars in town. Carefully selected for their atmosphere, affordable prices, location and popularity. 
-All our fun and friendly hosts have backgrounds in entertainment, from actors to comedians. Which means they're always on hand to make sure the event runs smoothly and you have a great night out. 
-We have our unique online matching and messaging system. While other companies have to collect in sheets and manually enter everyone's matches. Our matching system is all online, so there's no room for human error in the matching process. 
-Our huge range of events, from the classic speed dating events to the alternative dating hits like Dating Against Humanity, means that there's something for everyone. 
-Most important of all - our events are fun and popular making us London's favourite Speed Dating company.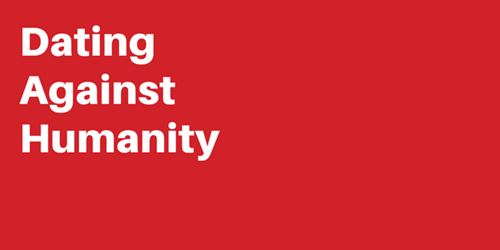 We make it our business to make the dating experience as fun and interesting as possible. We understand dating is about meeting people not swiping through products in some sort of personal dating catalogue. It's a social experience that enables us to have fun and enjoy ourselves while meeting new people (maybe that certain someone).
Being single isn't hard work with Original Dating. Let's make dating the fun experience it's supposed to be, let's make it sociable again and lets not encourage people to take selfies with sedated tigers. More people than ever are putting their phones down, fed up with dating apps, so let's keep it old school.  
If you're tired of matching and never meeting...want to actually meet people face to face...or just looking to make the dating experience fun, then come along to one of our popular events. You won't be disappointed with Original Dating.  
Sign up here for a first time discount as well.  
WORDS BY STUART GRAHAME
Stuart is the Business Development Director for Original Dating and has been a regular host for many years, making him an expert in the field for offline dating. Watch out for his regular posts full of dating tips and advice.