It's not quite how it sounds, or maybe it is? 
You'll certainly be doing a lot of swinging - of your golf club that is because Original Dating have teamed up with Swingers West End to bring you Swingers Dating. We couldn't be more excited about our fantastic new event which will see you play the incredible Helter Skelter course in 4's at this crazy golf club. 
Why is this the perfect dating event? 
Well it's not just me that thinks Swingers makes for a great dating experience, it was in the Top 10 dating venues by Time Out. Swingers West End is a totally all-inclusive dating venue. It's got it all, bars (yes plural), street food stands (again plural) and of course two crazy golf courses (yes two)! Once you arrive there's really no need to leave. 
Crazy golf makes for the perfect icebreaker. It's crazy hard and even crazier fun, which means there's never really gonna be anyone who is miles better than the rest and it's easy for even the best golfers to look like novices. The object of the game is to get the ball in the hole within the least amount of strokes (shots) but there's always some crazy mad obstacle in your path. Anything from loop the loops to narrow openings. 
How will this dating event be like none other? 
Not only will this unique event be in the incredible surroundings of Swingers West End you'll also have exclusive access to the Palm Lounge, where before we tee off there will be a short meet and greet with your fellow swingers, all 50 of them - before getting your clubs and heading out onto the course. 
The course itself consists of 9 crazy holes you'll navigate around in 4's. As always are events are about getting to know one another, each hole will have its own topic of discussion - which could be anything from what's on your iPod to the last thing you bought over £10.  
The best bit is there's always 'caddies' walking around to take your drinks orders, so you never have to leave the course. With the electronic scoring it's easy to keep track of your score and after you've completed your round you can go back to our private Palm Lounge for a debrief and see how everyone got on.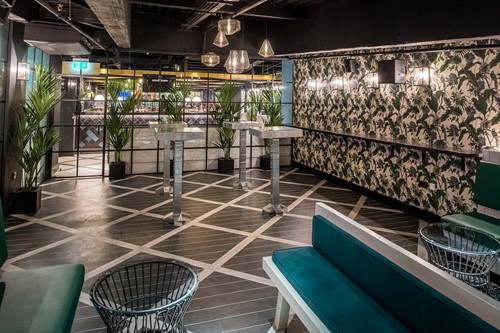 Then it's time to see who will be crowned the Swinger King & Queen! 
This unique dating experience is going to be our first ever Sunday event. Doors will open from 2pm with a 2:30pm start and finishing around 5pm. This casual Sunday afternoon experience is going to be a STROKE of genius and a HOLE lot of fun! 
Tickets are £25 and include your golf hire and post event matching and messaging, as well as meeting up to 50 singles at the brand spanking new dating event!
Stuart is the Business Development Director for Original Dating and has been a regular host for many years, making him an expert in the field of offline dating. Watch out for his regular posts full of dating tips and advice.