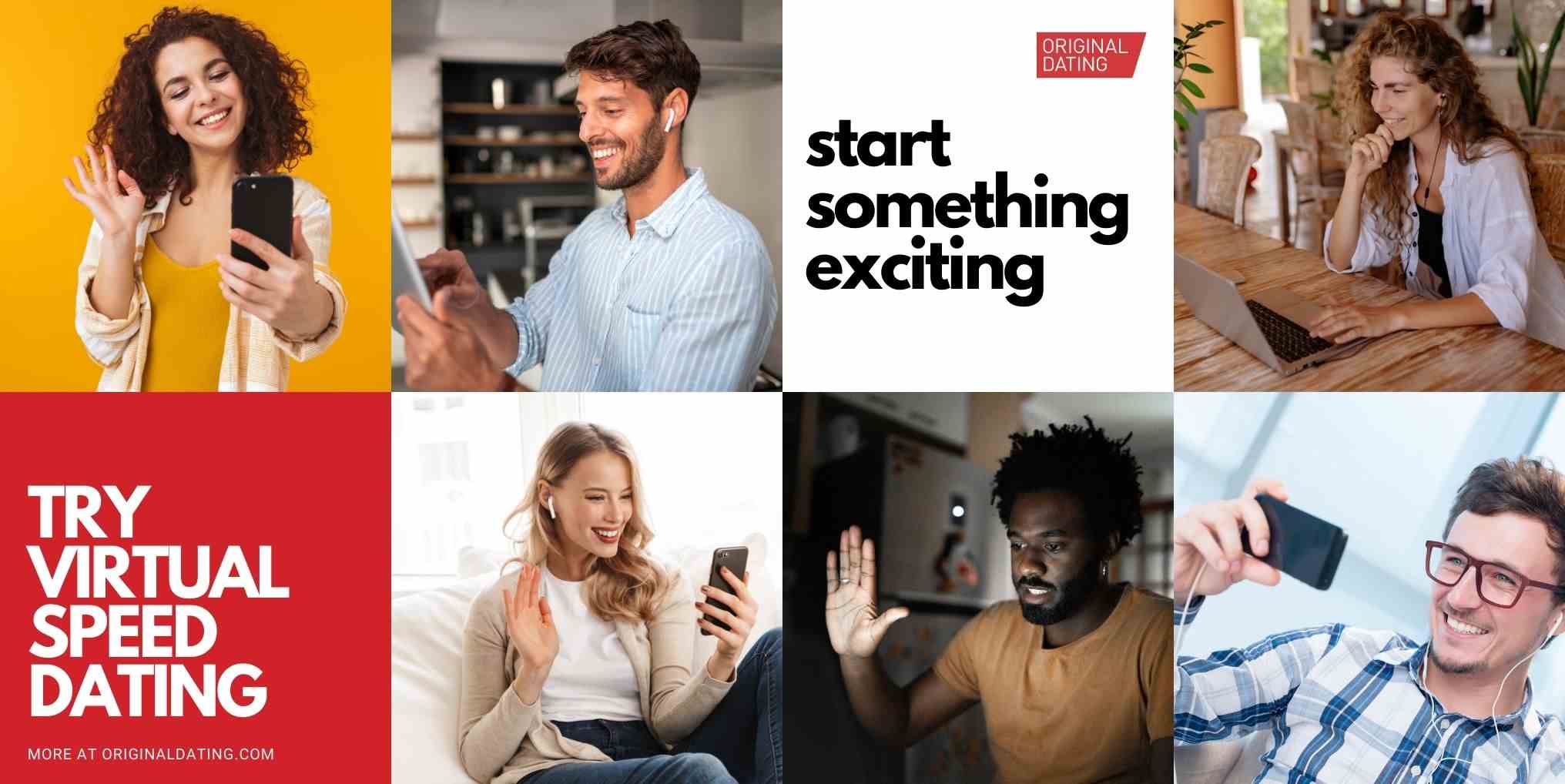 About the event
Join us for this online only, virtual speed dating event designed for people living in Harrogate.

You'll meet 10-15 people for short dates lasting just four minutes - all from the comfort of home.

Our virtual speed dating events mirror the format of our real-life events. Upon signing into the event, you'll meet our host who will explain the format to the group. You'll then be transported to virtual tables for two which offer a one on one private chat environment for your first four-minute date.

You can join the event from any device that features a camera and a microphone and most phones and laptops are perfect for the job.
At the end of each date, the male participants will be moved to the next virtual table and the next date begins. The whole session will last approximately one hour.

After the event, simply head to our website and view a list of everyone you met at the event. Select who's a yes, a friend or a no and our system will crunch the matches.

The following day your matches will be published, and you'll be able to message your matches via our site and arrange your next virtual meet or in the not too distant future a real life date.

Our virtual speed dating events are guaranteed. If you don't meet anyone you want to see again, your next virtual event is free.
Important information
This event takes place online. On the day of the event the link to join the online event will appear in the My Events section of your account on our website.

Simply join the event at the start time and you will meet our host who will guide you through the process.

- Virtual event starts 7.30pm
- Speed dating finishes approximately 8.30pm

It's essential that you join the event a few minutes early to enable us to start promptly. You may not be able to take part if you join late.
Price: £8
Sorry, this event has sold out
Reviews
Back to top
The host was very funny and really friendly and put you at ease.
Posted: 07/03/2021
Had a good time
Posted: 06/03/2021
Nataliey
Verified Attendee
Well organized. Met some interesting people
Posted: 05/03/2021
Great Host, Great Fun, Great People and well run. I was unsure at first but I would definitely attend another event and I would highly recommend. 😎
Posted: 05/03/2021
Well organised, will definitely do again
Posted: 04/03/2021
First timer, but nerves diasapperead quite quickly with great hosting by Arthur. Well organised too!
Posted: 02/03/2021
Great experience overall!
Posted: 28/02/2021
It was nice, easy and lively.
Posted: 28/02/2021
Great fun!
Posted: 28/02/2021
Was my first time, but the event ran smoothly - our host was great. A really enjoyable evening!
Posted: 27/02/2021
well organized, no interruption between dates. it was fun. nice to have some time at the end to chat.
Posted: 25/02/2021
Really chilled
Posted: 25/02/2021
Good host and an overall fun evening.
Posted: 25/02/2021
Philippè
Verified Attendee
Super fun event with super fun people
Posted: 25/02/2021
Original Dating reply
We're super pleased you had a good time! Thanks Philippe.
Thank you for the event, lots of fun!
Posted: 24/02/2021
Great and easy way to connect with others. Good to match number of men and women. Also helpful that it is grouped by age
Posted: 24/02/2021
Roberta
Verified Attendee
Great host !! Arthur was really helpful and made the event fun.
Posted: 21/02/2021
Really enjoyed the evening! Was nervous going in but once started had some lovely chats, would do again 😊
Posted: 20/02/2021
Amazing, what a great event!
Posted: 19/02/2021
Elizabeth
Verified Attendee
It was very smoothly run - well done and thank you to Arthur. There was a good number and range of men. It was a fun, slick evening. Thank you.
Posted: 17/02/2021
The host was amazing. Well organised. Please try surprised with how it went for my first time!
Posted: 16/02/2021
Stephen
Verified Attendee
Posted: 16/02/2021
Great host, she was lovely!
Posted: 16/02/2021
Rebecca
Verified Attendee
Posted: 15/02/2021
Vanessa
Verified Attendee
Fun and well organised.
Posted: 15/02/2021
Original Dating reply
Thanks Vanessa, we aim to please.
Andreas
Verified Attendee
I was good
Posted: 15/02/2021
Original Dating reply
Not one to blow your own trumpet, eh Andreas! 😊
A lot more women to speak to than last time...this year's Valentine's Day online speed dating did not disappoint!
Posted: 14/02/2021
Original Dating reply
Thanks Sam, all our events are different!
Courtney
Verified Attendee
This was great fun, and I really enjoyed my evening. It runs (fairly!) smoothly, well explained, and some really genuine people attended. Would definitely do again (unless I just found the perfect man????)
Posted: 14/02/2021
Original Dating reply
Thanks so much, we are over the moon that you enjoyed dating virtually with us!